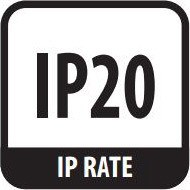 The LED light fixture "Lyon", from the series of designer light fixtures offered by Dianid, is a stylish light fixture suitable for ceiling mounting.
Used as the only lighting, at its maximum power, we recommend the Lyon LED body with size 510x510x60mm for lighting rooms up to 12 square meters in size.
Used as the only lighting, at its maximum power, we recommend the Lyon LED body with the size 900x600x60mm for lighting rooms up to 16 square meters in size.
The body can be made with warm or cold white light.
The light fixture changes its color temperature in three different shades each time it is switched on. How can you change the color temperature of the Lyon LED fixture? Turn on the light fixture - if the color temperature is not right for the moment, just turn off and on again.
The light fixture is packed in a cardboard box and sealed with styrofoam. In the box, the light fixture is wrapped with protective film and paper for additional protection from scratches during shipping. IMPORTANT! When removing the protective film and paper, do not use sharp objects or abrasive preparations and materials. The protective film and paper must be removed carefully and patiently by hand. It is recommended not to use other means, as they can easily scratch the light fixture. Scratched lighting fixtures are not replaced!
If you don't think you can handle the removal of the protective film yourself, we can do it for you completely free of charge. In this case, you need to get the light fixture from our store in person.
LED illuminators CANNOT be combined with any other illuminators except LED in the same lighting circuit!
Combining them with other types of lighting can cause the LEDs to burn out, which is NOT COVERED by the warranty!
What kind of illumination do different models and sizes of designer lighting fixtures provide

| Model | Size / Power | Luminous flux (lm) |
| --- | --- | --- |
| "Ren" | 420x44mm | 2000 |
| "Ren" | 520x44mm | 2240 |
| "Ren" | 620x44mm | 2400 |
| | 780x60mm | 3600 |
| | 580x380x44mm | 1760 |
| | 420x420x44mm | 2080 |
| | 520x520x44mm | 2240 |
| | 600x400x44mm | 2400 |
| | 510x510x60mm | 2400 |
| | 600x600x60mm | 2800 |
| | 900x600x60mm | 9600 |
| | 420x420x44mm | 2080 |
| "Bove" | 420x420x44mm | 2080 |
| | 500x500x44mm | 1920 |
| | 900x600x44mm | 9600 |
Extended warranty period
All the products we manufacture come with a legal guarantee of at least 2 years. The standard warranty for LED raster ceiling panels, industrial LED bells, LED tubes, most LED spotlights and recessed lighting is 3 years, and for many products we offer an option to extend the warranty to 5 years.
We value our customers
As a registered user in our online store, you collect bonus points with every order placed. Accumulated points are automatically converted into a discount on the price of your next order with us. Check out our loyalty program.

Free or discounted shipping
For all orders over BGN 120, we deliver free of charge to the city of Sofia. In the rest of the country, our customers use the preferential delivery prices of the courier companies we work with.

14 day return period
You can return a product purchased from us up to 14 days after you received it if it does not meet your expectations (the product must not be damaged in appearance and packaging).

Transparent relations
We keep everything transparent in our dealings, so we always inform you in advance about everything related to your order and about our every action, so that you are aware of what, how and when it is happening and what to expect.

Documents
We issue all necessary documents for the offered goods - accounting and technical.

Complaints without costs
In the event of a claim, all transport costs are at the expense of the Dianid company.