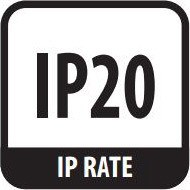 The LED lighting fixture "Albi", from the series of designer lighting fixtures offered by Dianid, is a stylish lighting fixture suitable for wall mounting.
The light fixture is packed in a cardboard box and sealed with styrofoam. In the box, the light fixture is wrapped with protective film and paper for additional protection from scratches during shipping. IMPORTANT! When removing the protective film and paper, do not use sharp objects or abrasive preparations and materials. The protective film and paper must be removed carefully and patiently by hand. It is recommended not to use other means, as they can easily scratch the light fixture. Scratched lighting fixtures are not replaced!
If you don't think you can handle the removal of the protective film yourself, we can do it for you completely free of charge. In this case, you need to get the light fixture from our store in person.
LED illuminators CANNOT be combined with any other illuminators except LED in the same lighting circuit!
Combining them with other types of lighting can cause the LEDs to burn out, which is NOT COVERED by the warranty!